MATTIE MCGRATH'S PHOTO OP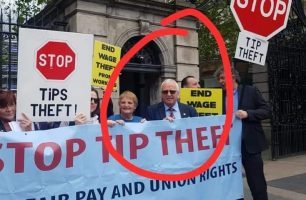 DEMONSTRATORS at Leinster House were buoyed yesterday when Mattie McGrath TD arrived at the gates to chat with protesters and even have his photograph taken holding their banner.
Crowds had gathered to keep a vigil as TDs inside debated the Protection of Employee Tips Bill. Despite government objections, the legislation received cross party support and passed the Dáil by 75 to 41.
With such a strong margin, those outside were lucky they weren't counting on McGrath, who abstained when it came down to the vote.